Building an email list is probably one of the most critical building blocks for the healthy growth of your business. We've been aware of this for some time yet are only now getting started with the process ourselves. The point is it's never too late.
Many successful online entrepreneurs are quoted as saying that their biggest mistake was waiting to build their email lists.
In the days where social media platforms dominate the internet, it's easy to get caught up in the roller coaster of likes and reels, but ultimately these platforms own your audience, not you.
When it comes to your own email list, you are in control.
Instagram, Facebook, YouTube, Podcasts etc., are all great for casting the net when it comes to attracting eyes to your products and services, but once people are on your list, you can nature that relationship directly and even automagically. (insert unicorn emojis here)
For communication, email marketing is great because:
It creates a concentrated customer focus on your products and services
Although there are costs, it is relatively inexpensive
It's old school, yes, but emails are still the primary source of communication for most people.
According to Campaign Monitor, you are six times more likely to get higher click-through rates through emails than tweets. Also, email is 40 times more effective at acquiring new customers than Facebook or Twitter.
Hubspot claims that 40 per cent of B2B marketers say email newsletters are most critical to their content marketing success, while 73% of millennials prefer communications from businesses to come via email.
You can build a relationship with your audience using autoresponders with a sequence of emails following any signup. These messages can 'automagically' onboard your subscribers in whichever way you like.
Depending on the type of business you run, you may need to consider different onboarding strategies. For example, an eCommerce operation would be quite different to a health practitioner.
Email Marketing Tools:
Here are three email marketing platforms that we've played around with and like. They are all widely used and do an excellent job. For total transparency, some links are affiliate links, which means we may earn a commission if you sign up through it, at no extra cost to you.
MailerLite:
We use and love mailerlite! MailerLite is an email marketing tool with ultimate features like a landing page builder, a drag-and-drop email builder, a built-in photo editor and a rich text editor to create stunning emails.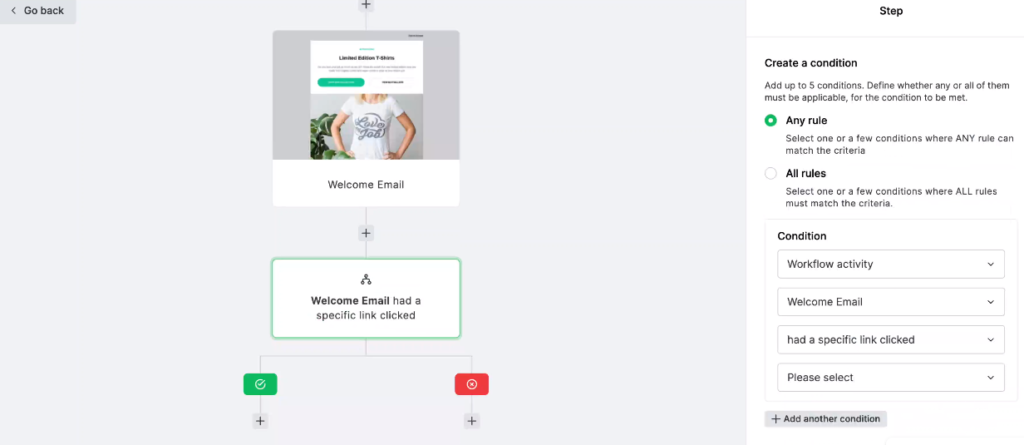 You can run split tests of your emails, and MailerLite also provides comprehensive tools, including different stats like unsubscribe rate, click rate, open rate, and more, as you would expect.
Integrations
You can easily connect Mailerlite with other web apps such as Shopify, Stripe and Paypal, so they seamlessly work together to share information, automate workflows and enhance your customer experience.
Web Pages
You can also create Landing Pages and Webpages, and, obviously, newsletters. You can even offer paid newsletter subscriptions.
Pricing:
The main packages are Free, Growing Business and Advanced, all with different features.
Sign up with this link for a 30 day trial with premium features:
AWeber:
AWeber is one of the original autoresponders, established in 1998 with more than 120,000 users. Experience counts for a lot and shouldn't be underestimated.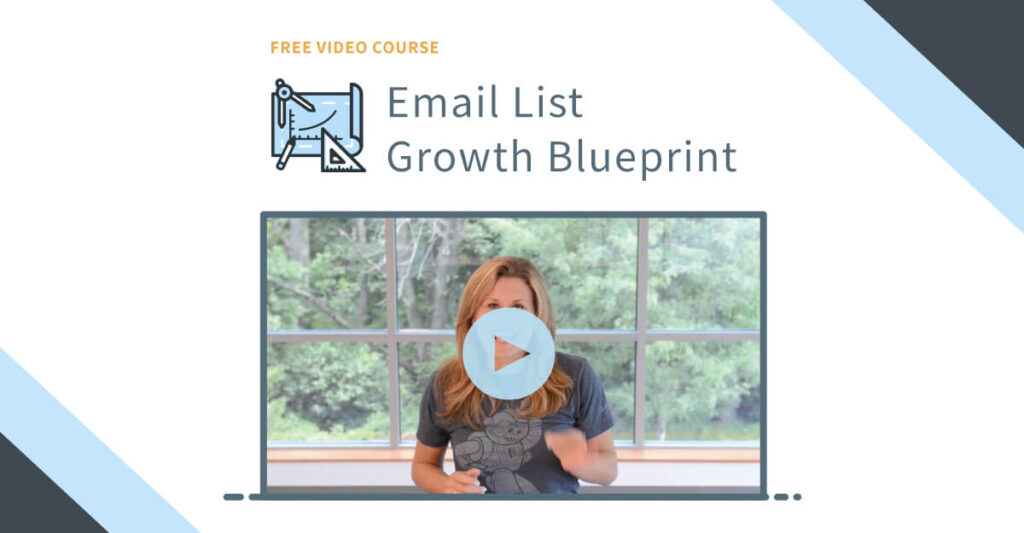 The main takeaways are:
The Free Plan gives you unlimited landing pages.
There are over 600 email templates, or you can pull in your website style with the smart designer.
More than 750 integrations with 3rd party apps.
There are three types of editors: drag and drop, plain text editor, and HTML editor.
Seventeen pre-made automation campaign templates. Note that advanced ITTT (If This/Then That) triggers are limited compared to other platforms.
Aweber provides good 24/7 live chat and email support.
Aweber is a solid platform for solopreneurs and small businesses but look elsewhere if you need advanced automation.
Pricing:
The Free version allows up to 500 subscribers to get you started.
Aweber has various options for the paid tiers depending on how many subscribers you have, but all tiers include all the tools.
Convertkit:
ConvertKit is one of the newer, fast-growing email marketing platforms on the block. It has one of the simpler automation and tag-based subscriber systems out there. You can also build automation journeys with their new visual workflow builder.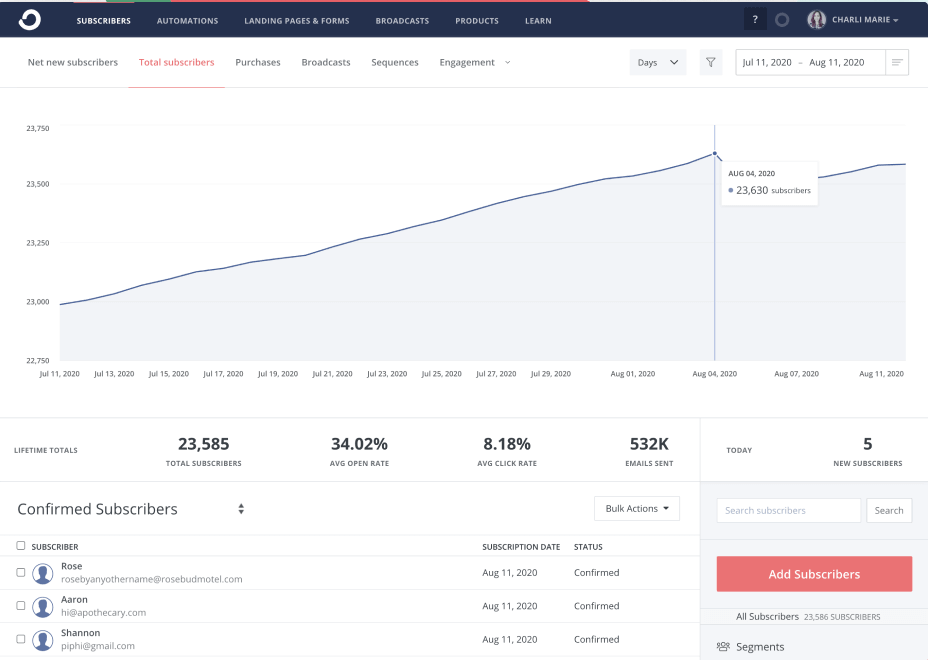 The newsletter and form builders are very limited, so although you can hard code using custom CSS code (which means bringing in a web developer), there are limited options on the design front. Newsletter templates are limited to eight instead of Aweber's 600 plus.
ConvertKit would argue that the lack of a drag and drop builder produces less bloated emails that improve deliverability to mailboxes. So, if simplicity is your forte, then consider trying ConvertKit.
Main Takeaways
Easy reporting
Simple and Effective automations builder
Tag-based subscriber method
Pricing
Free for up to 1k subs with limited features (and no automation)
Starting from $29 P/M inc automation